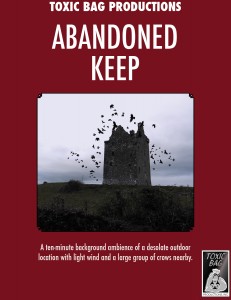 This was once a place of sanctuary; a last resort. But that was long ago. Now it is a shattered hulk of a building, offering nothing to the weary traveler but some brief shelter from the cold wind. Local legends whisper of something dark that has taken up residence here. But this blasted ruin is home only to a murder of crows. Or is it?
"Abandoned Keep" is a background sound of a desolate outdoor location with light wind and a large group of crows nearby. The effect is ten minutes long and loops seamlessly.
While ideally suited for a Fantasy RPG, this ambience will work in any campaign setting when you need an abandoned building for your party to explore.