Battles
$5.99 download
$1.50 compact disc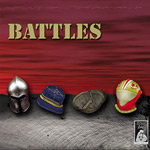 Whatever game you play — miniatures, board-war games, role-playing games –Toxic Bag Productions' Battles CD puts you in the center of the action. The air is thick with the sound of bullets whizzing by, cannons roaring, officers barking orders, tanks rumbling down wrecked streets, volleys of arrows and the crackling of energy weapons. Four battles from four distinct epochs, each with an eight-minute loopable section for unlimited re-playability.
"While I've obviously never been in the middle of a sword and sorcery melee or a Civil War battle, [BATTLES] sounds pretty much like I imagine it would." –Kenneth Newquist, Nuketown
"One of the best…BATTLES is a top notch game aid. This one CD has so many uses, it's really a shame not to own it." –Brian's Small Press Picks, Knights of the Dinner Table October 2002
"…all the war ambience you need." —Sorting the Loot, Nodwick October 2002
We're currently blowing out our remaining stock of Battles CDs! Individual discs are now just $1.50. Click "Add CD to Cart" below." When they're gone, they're gone!