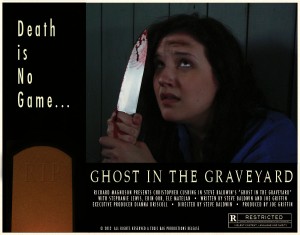 We made some real trailers for a fake movie for which we wrote a real soundtrack…
Ghost in the Graveyard is the scariest 1980s horror film never made!
Arlington Station, WI, Spring 1983: A group of teenagers gather at a creepy old church for a party…couples steal away to fool around among the headstones in the nearby graveyard. Soon the graveyard is awash in fresh blood as one by one the nubile young students are picked off by…what? A vengeful spirit? A mad, deranged serial murderer? Look, it doesn't matter. There's no movie. Just a kickass soundtrack with an awesomely 80s flavor.
Featuring Stephanie Lewis and Ele Matelan. Voiceover by Alan Vuchichevich. Music composed by Steve Baldwin and Joe Griffin.
©2012 Toxic Bag Productions.