Soundpack: Fantasy Traps
$0.99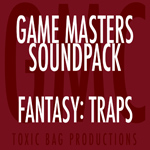 The Fantasy Traps Soundpack is a collection of 11 trap sounds for your perilous fantasy campaigns. Sounds include:
• Room trap – Stone walls compact Sealed inside a stone chamber…the walls begin inching closer. One thing is clear–the party is going to be a lot taller.
• Room trap – Short fall A classic trap door leading to a nine-foot drop onto a hard stone floor.
• Room trap – Short fall into spike pit This trap opens above a bunch of spikes…shish kebab anyone?
• Room trap – Fall into liquid This trap drops the victim 35 feet into a body of liquid. What kind of liquid -and what's in it– we leave up to you…
• Room trap – Fall into monster pit As if falling 9 feet and landing in a heap isn't bad enough, now there is a large beastie joining the party for lunch. Ooops! We meant to say 'eating,' not 'joining.'
• Room trap – Ceiling collapses First you stick them in a dank, dark cave. Second, you seal the tunnel exit. Now it appears that the ceiling is coming down! Talk about a lousy afternoon…
• Chest trap – Acid spray The good news is, the party just found a treasure chest. The bad news is, that runny nose the elf just got is not from a cold…
• Floor trap – Crossbow bolt fired A stone pressure plate fires a crossbow bolt into the room. Perfect for temple defense!
• Floor trap – Multiple crossbow bolts The same as above, but with many, many bolts being fired. Just let them try to steal the idol now!
• Trap trigger – stone Just what it says – a stone trigger you can use for any trap you want!
• Trap trigger – latch Same as the stone trigger, but this time it's a metal latch. Enjoy!
"For GMs looking to add an aural dimension to their games, this pack of fantasy trap sounds might be a cheap and helpful addition." – Dennis S., Featured reviewer, DrivethruRPG.com