Sounds of the Pacific War: Carrier War #1
$1.25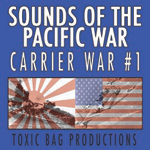 Perfect for miniatures or war games – Toxic Bag Productions' Sounds of the Pacific War: Carrier War #1 puts you right in the middle of the Pacific War ca. 1942. Sounds include:

• U.S. STRIKE LAUNCH (1:11)
American Dauntless and Devestator bombers and Wildcat fighters roar off the flight deck of an American carrier to attack a distant Japanese task force.
• U.S. STRIKE ATTACK (1:22)
A group of Dauntless dive bombers attacks a Japanese carrier force.
• JAPANESE STRIKE ATTACK (1:54)
A group of Kate torpedo planes escorted by Zero fighters attacks an American carrier force.