The Game Masters Collection Volume Two: Monsters
$5.00 download
$1.50 compact disc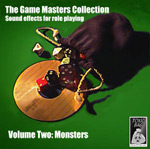 Is there anything better than seeing the looks on your players' faces as you play the sound of the monster lurking behind the next door? The first look is puzzlement, followed by concern, and then it finally settles into fear. Is it getting louder? Should they stay and fight or turn and flee? Don't just tell your players about the bad guys, let them hear for themselves what creepy thing is about to give them a bad day.
Monsters is a macabre folio of boogey men, aliens, and other horrors. Ideally suited for all genre RPG and LARP games. What does that Hell Hound sound like? How about that swarm of giant bugs or that shambling plant creature?
"A pretty creepy collection…made the hair on my neck stand on end…a must have!" –Brian's Small Press Picks,
Knights of the Dinner Table
"Guaranteed to make them jump…would be a "sound" addition to your GM's bag of tricks." —GameTime magazine
We're currently blowing out our remaining stock of Game Masters Collection CDs! Individual discs are now just $1.50. Click "Add CD to Cart" below." When they're gone, they're gone!
Listen before you buy: