The Game Masters Complete Collection
$18.00 download
$5.00 compact disc set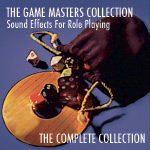 The Game Masters Collection is a collection of unique sound effects, ideally suited for all genre RPG and LARP games. These sound effects were originally released as four compact discs: The Twentieth Century, Monsters, Fantasy, and Strange Places.
The Game Masters Collection CD box compiles all four original CDs into one set.
"A pretty creepy collection…made the hair on my neck stand on end…a must have!" –Brian's Small Press Picks, Knights of the Dinner Table
"Guaranteed to make them jump…would be a "sound" addition to your GM's bag of tricks." —GameTime magazine
"The compact discs from Toxic Bag are quality products that deliver what they advertise…these CDs are likely to please role-playing gamers who are looking for one more way to increase the immersion in their gaming experience."
—Wargamer.com, December 2002
"Are you one of those DMs who can mimic a fabulous array of voices and make convincing sound effects during the game? Me, neither. For those of us with a limited vocal range, Toxic Bag Productions has come to the rescue with a series of sound effects for your roleplaying campaign."
—Dragon #284
"The discs feed the imagination by providing the auditory equivalent of flavor text, those long passages of description found in almost every Dungeons & Dragons module. The Game Masters Collection …provide[s] GMs with just the right sound for just the right moment.
The tracks are expertly recorded, and if they occasionally sound like B-movie clips, it's because they're supposed to. Diehard game masters…are going to love this collection."–Kenneth Newquist, Scifi.com
We're currently blowing out our remaining stock of Game Masters Collection CDs! Get the full set for only $5.00. Click "Add CD Collection to Cart" below." When they're gone, they're gone!