Zombie Apocalypse Volume Two: The Mall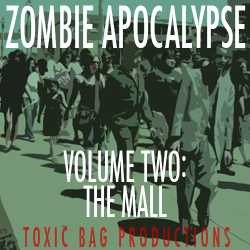 "They're dead, yet they still come here. Why? Are they after us?"
"It's not us, it's the mall. They just remember wanting to be in here."
The dead are returning to life and attacking the living. You're desperately looking for a safe place to hide when you come upon a shopping mall. Everything you need to survive is inside. But the walking dead are here too.
Can you secure the mall and establish a safe haven in this nightmare world?
Zombie Apocalypse Volume Two includes two six-minute ambiences of zombie terror.
Track One: the mall itself is empty, but the undead are just outside. The music, the pre-recorded commercial announcements, the water foutain and escalator – all continue to operate as the zombies try to get in through the locked entrances.
Track Two: the zombies have gotten into the mall…or perhaps they were there to begin with. As they roam around, moaning and groaning, you're left with three options, hide, fight or flee.
Perfect for modern zombie survival games.